Posts Tagged 'ecahf'
April 10th, 2018
2018 EASTERN NORTH CAROLINA ELEMENTARY SCHOOL ENGINEERING CAMP
Havelock, NC – The Eastern Carolina Aviation Heritage Foundation in partnership with the City of Havelock, will be offering a week-long, non-residential summer day camp for elementary school students (rising 4th, 5th and 6th graders) at the Havelock Tourist & Event Center on July 24th through 28th, 2017. The camp will be led by elementary school teachers from Craven and Carteret Counties with support from engineering faculty from NC State University and staff from Fleet Readiness Center East aboard MCAS Cherry Point.

The camp will provide students a fun and positive glimpse into various fields of engineering using hands-on, creative investigations and real-world building activities. Throughout the week, students will be divided into design teams led by local teachers. In their teams, students will be given the challenge to individually design and build various devices related to aviation and will learn engineering fundamentals by exploring various experiments.
On the final day of camp, students will demonstrate their work in a public forum that incorporates many of the concepts from the camp's weekly activities.
Families and the community are invited to attend this final competition on Friday morning. The camp is from 8:30am – 12:00noon Monday through Friday and a snack is provided. No lunch is provided. Cost for the camp is $125 per student. Scholarships may be available for students with demonstrated financial need. Please contact us if you are interested in sponsoring a student.
Accepting Applications Now
To apply, go to www.ecaviationheritage.com and follow the link to "Summer Camp". For more information or a copy of the application packet, contact Amanda Ohlensehlen at aohlensehlen@havelocknc.us or call 252-444-4348.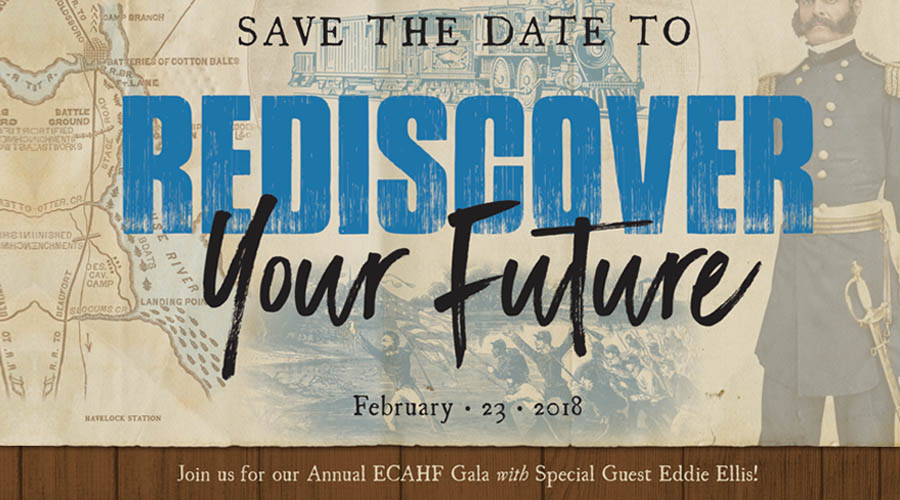 If you like trains, if you're interested in the Civil War, if you're curious about what life was like in Craven and Carteret County a hundred years before Cherry Point was built, then don't miss the Eastern Carolina Aviation Heritage Foundation Gala. We are pleased to have our very own historian and author Eddie Ellis back with us again. He's promised to bring fresh insights, new stories and recent discoveries about coastal Carolina sure to entertain and enlighten all who attend. More amazing tales of our local history with a little archeology thrown in this time. Don't miss it!
Eddie Ellis will help the audience "Rediscover Your Future" by exploring the rich history of our region and how it has shaped the future. Proceeds from the event will benefit Eastern Carolina Aviation Heritage Foundation in our efforts to inspire young learners to pursue new and exciting career pathways through STEM (Science, Technology, Engineering and Math) education.
Join us for Annual ECAHF as we travel back in time like never before with the extraordinary talents of Author & Historian Eddie Ellis!
Friday, February 23, 2018 @ 5:30pm
Havelock Tourist & Event Center
Tickets: $55 each (2 for $100)
Business Casual Attire